Glazed Extensions in Leeds
Here at Select Extensions, we provide an incredibly popular variant of house extensions; glazed extensions.
Glazed extensions are an incredibly efficient type of house extension that can not only provide an extra room – expanding your home, but its thermal performance also benefits the entirety of the property. Maintaining a comfortable interior temperature regardless of how hot or cold it is.
One of our clients from Leeds decided to go for our glazed extension option to further increase their home's style, functionality, and space. Fitted with frameless glazed glass panels, homeowners like our client mentioned above can enjoy a completely unobstructed view of the outdoors, allowing you to enjoy the beauty and serenity of your back garden or the nearby nature, even if the weather is less than favourable. Our glazed extensions offer a peerless aesthetic, sporting a modern and sleek finish with no need for any unsightly supporting profiles.
Panoramic views of the great outdoors aren't the only thing our client in Leeds can enjoy. They can also save money, as our glazed extensions are an incredible property investment for any homeowner. Because of its thermally efficient performance, homeowners can enjoy their new living space at comfortable temperatures all year round. This is because all of the glass panels are double glazed, meaning that they have been designed to trap and retain the natural heat within your interior. Because of this, your home remains warm and cosy without the need to switch on the central heating, saving you money on the energy bill. Our double glazed panels also make sure to keep hot air outside when the Summer heat begins to approach. Meaning your glazed extension will remain nice and cool even if the heat outside isn't, allowing our client to be able to enjoy their brand new house extension any time of the year.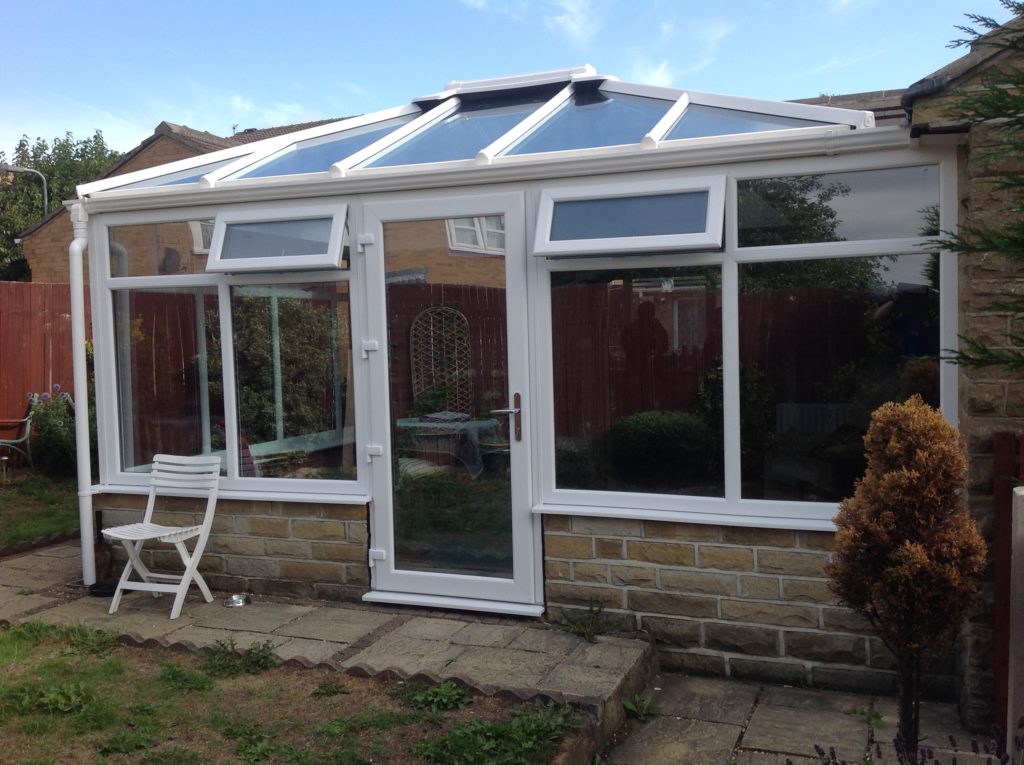 Our client opted for a rectangular design with a peaking roof, a classic and modernised design that takes full advantage of their big back garden. Their glazed extension boasts an incredibly expansive interior space that allows them to enjoy as a new room to relax in and enjoy the view of their garden. All this whilst taking up only a minimal amount of exterior space, meaning homeowners like our client can enjoy a new living room without taking up too much of their exterior space.
Our client came to Select Extensions for a house extension that will provide unobstructed views, thermal efficiency and looks great too. From their happy expressions, we believe we have delivered. That is because we take our clients seriously, as we intently listen to their particular needs and requests and what type of property they own, allowing us to offer the best house extension product that achieves their desires, whilst being completely optimised to perform for their home.
To find out more about our glazed extensions or how we can help expand your home, why not contact us today or try our free online quoting engine?
Categories: Conservatories
Tags: conservatory, conservatory all year round, how to use a conservatory all year round, year round conservatory