What Is a House Extension?
 At Select Extensions, we offer plenty of extensions to choose from. A new extension has many benefits for you, including adding extra market value and attracting prospective buyers. But what is it? What do you need to consider when building one? And how can it help you? Read on to find out more. 
Like any big decision in life, you need to consider some things before starting an extension. For example, ask yourself if your extension project will add extra value to your home. To give yourself a better idea, you can talk to a local estate agent who will help you determine how much extra value it will add. This will help you make an informed decision on whether an extension will be worth it. You should think about how much it will cost to extend.
In addition to this, you have to consider the impact an extension might have on your neighbours. If the extension leads onto their garden, you must get planning permission. 
A house extension is an extra living space you can add to your home. It can give you plenty of benefits and advantages. Deciding on whether you want an extension can be a very difficult decision. This is because you can either sell your home or extend it. You can benefit from having extra natural light in your home by choosing an extension. This will result in a thermally efficient property because you can save loads of money on your energy bills, which will lower the cost and let you stay in your beloved home. 
An extension is very useful because you can customise it however you want. At Select Extensions, we can offer you a bespoke service to help you create your dream space. You can choose however much glazing you want and in a wide range of personalised designs, styles, and colours. Our professional and efficient installers will work very closely with you to ensure that your brand new extension is built exactly how you like it. We have a range of designs that you can choose from, but you can also use various materials that will suit your style and needs. Be confident that you'll get a high-quality product suitable for your property. 
Your brand new extension can create a perfect living space too. You can create a kitchen with an island for you to sit around the table. Not only that, but you can even have a roof lantern that brings in more natural light. This results in saving money on rising energy and heating bills. An extension can even be expanded into two storeys as well if you need a bigger space. Plus, it is perfect if you are looking at growing your family. This is because it can be used for a wide variety of rooms. If you want an extra games room or even a playroom for the children, then an extension is the ideal space. 
A house extension is also very useful because it will provide you with a seamless connection to your garden. This is because it comes with advanced double glazing as standard, flooding your home with an influx of natural light. For instance, if you get a conservatory, it will add loads of space to your garden while also transforming it into a welcoming and inviting social space. The slim sightlines of the extension will allow it to have stunning panoramic views, allowing you to enjoy your garden much more.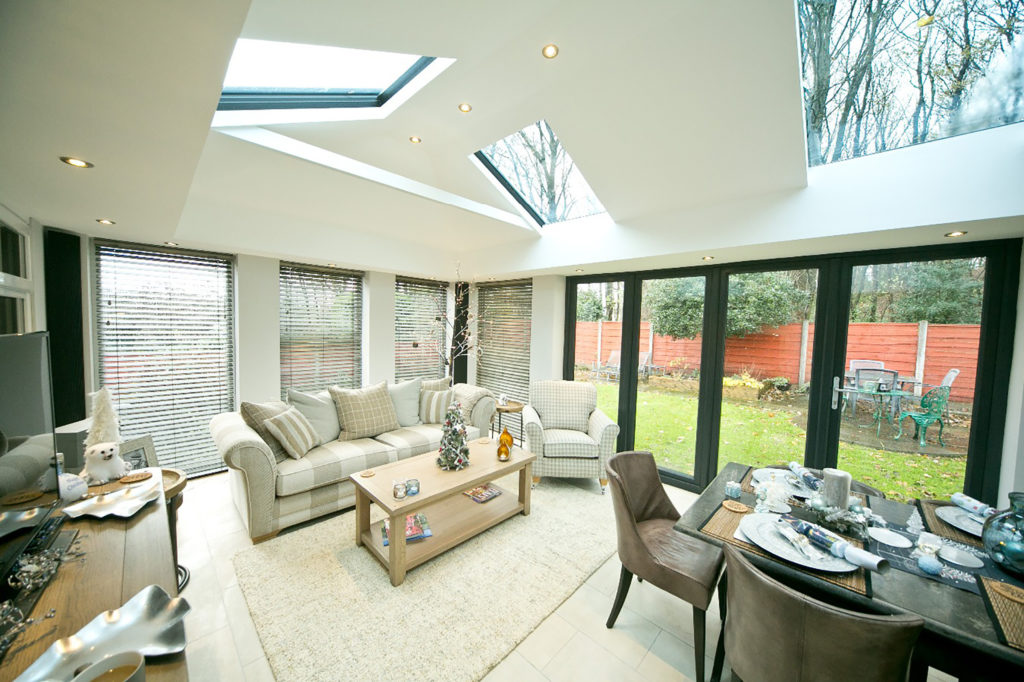 You can also create as much space as you need, whether this is floor space or even an expansion to your kitchen. A house extension is ideal for this. A house extension is perfect if you want to make the space much bigger, and we have the expertise to help you increase it. 
A house extension can also be necessary because you don't always have to have planning permission. If your house plans fall within permitted development, you won't need to apply for permission. This will help you because no extra cost is involved. 
Finally, a house extension can help modernise your home if it looks old and tired. You can choose from a range of finishes that will help add that much needed spark and add plenty of value to your property. If you do decide to move in the future, you'll benefit from a very valuable asset and allowing you to get more money than when you originally bought the house for. 
So now that you know what a house extension is, why don't you consider one? At Select Extensions, we're here to help you. Call our friendly team on 0113 257 8933, or fill in our online contact form. To design your dream extension, use our online quoting tool and we'll return with a bespoke price straight away.
Categories: Extensions